A quality warm-up is essential in Soccer as it sets the tone for the game ahead, it should never be neglected, it relies on dynamic stretching and movements to get your body moving, ready to perform, and minimize injuries. In addition to this, warming up benefits mental preparation and provides an opportunity to focus on the task ahead.
Understanding the importance of a warm-up will help you be prepared and play better than the competition. Below is a beginner's guide to warming up like a professional, so that you can perform to the best of your ability:
1. Preparation
Before game day it is important to get physically and mentally prepared before you head out to the pitch.
Make sure you have packed your bag, fueled your body, and most importantly show up to the game on time. Doing so will ensure your mind is zoned in beforehand so you can start your warm-up at peak performance
2. Hydrate Hydrate Hydrate!
No stretch, food, nor amount of motivation will ever prepare you enough for a workout unless you properly hydrate yourself beforehand.
While you should be drinking water every day, It's especially important to consume a lot of water before, during, and after your workouts so that your body can continue to perform at its best!
3. Start slow, end fast.
The goal of a warm-up is to progressively increase your body and muscle core temperature as well as raise your heart rate until you're ready to start your workout. The emphasis here is on progressively.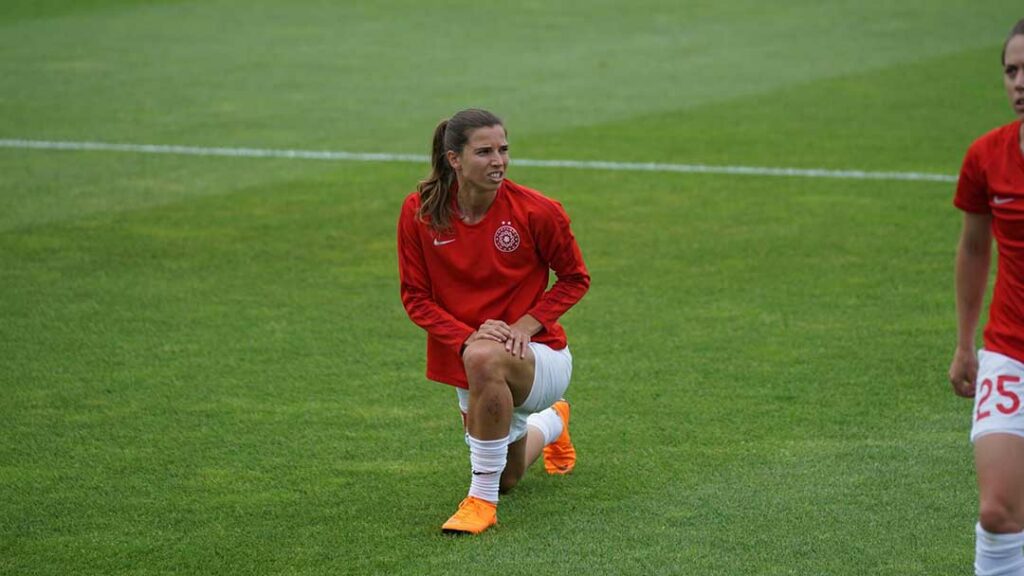 It's recommended to start your warm-up slowly by jogging for a few minutes and loosening up any immediate tightness. Gradually make it faster by doing multiple dynamic stretches and movements that get your blood flowing to all the important muscles and elevate your heart rate.
4. Dynamic over Static.
Dynamic stretching is active, mobile, and avoids holding the end position- all key ingredients for warming up your muscles to get the full range of motion and increasing your heart rate.
Static stretching is great for a cool-down and helps increase flexibility while slowing down your heart rate. Therefore, it's important to move as you stretch by jogging or skipping in-between each one. You'll know you're warmed up and ready to go when you can increase your intensity and move freely through stretches with a full range of motion.
Here is a list of dynamic stretches you can do:
Heel Flicks
High Knees
Side Shuffle
Lunges
Straight Leg Kicks
Lateral Leg Kicks
Arm Circles
5. Teamwork Time
Once you have bossed your individual warm-up, at this point physically and mentally you should feel sharp and be ready. Now it's time to tune this energy into your teammates, this is a great opportunity as a group to collectively match your intensity levels, start the communication and get focused for kick-off as a group.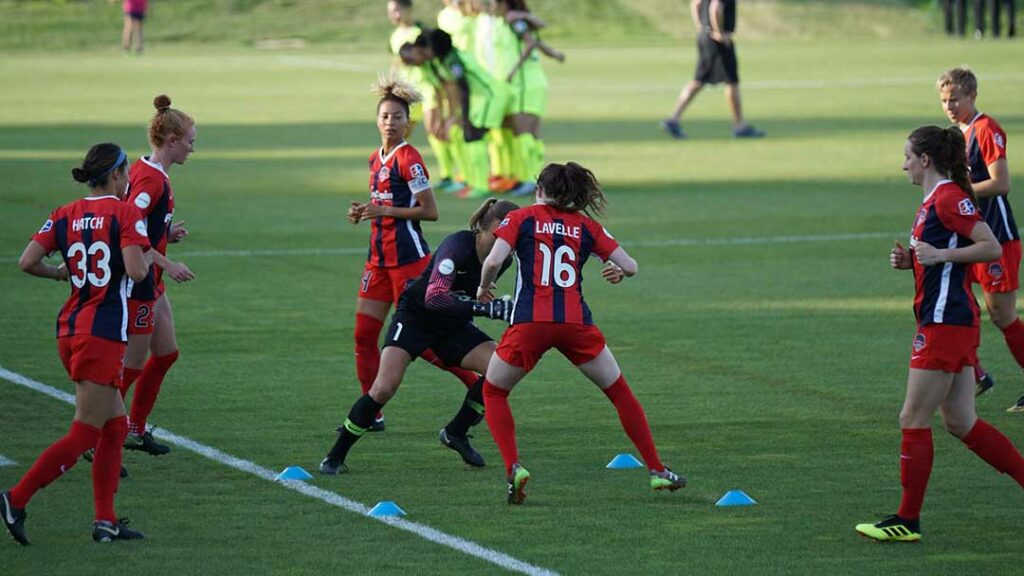 Plan out shooting, dribbling, and passing drills such as a Rondo which is great to increase the heart rate of the defenders as well as keeping the attacking players on their toes
As the saying goes there is no I in team and with Soccer this is spot-on as you win or lose as a team. So making sure everyone is collectively warmed up and ready together means you're already got a one up on the other team!
Here are some great exercises examples for as a team you could try out:
1 touch passing
Zig-zag cone dribbling
Pass and move
Lay-off and shoot
Heading and chest control
6v6 mini possession game
6. Game On!
If you have followed the steps you and your teammates have now warmed up like professionals, now it's time to play like one!
If the other players haven't taken advantage of an effective warm-up, you will be at peak performance and showing off your ability, while everyone else is still easing into the game.
Right from the first whistle take advantage of every opportunity and as you are physically and mentally at the top of your game. Make that first tackle, correctly pass the ball or score that goal to put your team into an early lead!
You will soon realise how important it is to effectively warm-up before any game.
Conclusion
If you don't want to risk the chance of injury, soreness, or starting games badly. Then making sure you don't miss out on warming up your body efficiently is a must! When you warm up you will be better prepared than everyone else and it will translate into your performances.
Following our steps will ensure you will always be effectively warmed up and at peak performance for game day.
If you enjoyed this page and want to know how you can continue to improve your game? Check out our other guides here: